Memory Care Lebanon, OR
Those struggling with the complex emotional, physical, and organizational challenges of caring for a loved one suffering from dementia will be heartened to know that Bridgecreek Memory Care's Alzheimer's/Dementia Care in Lebanon, OR offers all the warmth of family and comforts of home in a setting that is both stimulating and secure.
Our accommodations are designed to welcome and soothe. In fact, each room is decorated with warm colors and comfortable furnishings, with generous closet space, and room for the kinds of mementos and heirlooms that foster a sense of connection both to the past and to the present.
Amenities Abound
Residents of our Alzheimer's/Dementia Care Program enjoy a quality of life that includes:
Daily meals and snacks—all served in an attractive dining room and all as nutritious as they are delicious.
A full calendar of social activities specifically designed to engage and satisfy those with cognitive impairments.
A secure courtyard, where sun, fresh air, and the sights and sounds of nature offer powerful therapies all their own.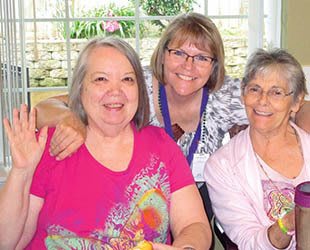 Cognitive and Physical Support
Families and residents alike will appreciate the caring supervision of our dedicated, in-house staff—which includes licensed nurse oversight—24 hours a day, seven days a week. Not only will they offer the guidance required for personal safety and community involvement, they will also manage all medical needs, including prescription drugs and diabetes care, incontinence issues, and all of the activities of daily senior living. They will do so with the same respect and compassion a family would show. At Bridgecreek Memory Care, we know that just because an individual with Alzheimer's or dementia can no longer remember a certain name, this morning's breakfast, or how to care for themselves, doesn't mean they've forgotten the joys of a warm smile and a gentle touch. So here at Bridgecreek Memory Care's Alzheimer's/Dementia Program, every aspect of every resident's care includes both.